Potato Skins Mac and Cheese Recipe
(Last Updated On: August 4, 2020)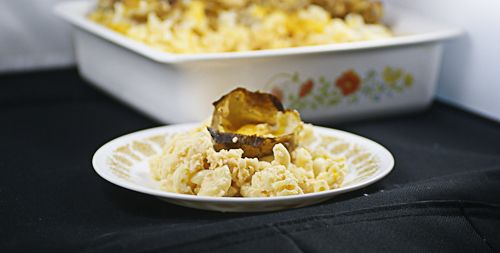 Potato Skins are one of my favorite bar foods. However, I always feel guilty ordering them. After all they're not really a meal just a snack.
I was wondering how I could turn them into a hearty dish when I found this Potato Skins Mac and Cheese recipe over at the Spicy Perspective.
It's a classic, creamy Mac and Cheese Topped with crunchy, cheesy potato skin goodness.
I cut the recipe in half for my smaller family, but feel free to double it if yours is larger.
Be sure to add generous amount of salt and pepper. The potatoes increase this recipe's need for a little extra seasoning.
Recipe Adapted from:A Spicy Perspective
Print
Potato Skins Mac and Cheese Recipe
Pin Recipe
Ingredients
5-10 Small Potatoes
2 Tb. vegetable oil divided
8 oz. Elbow macaroni approx. half a box
1.5 Tb.butter
1 Tb. flour
1 1/4 cups cups milk
1/2 cup sour cream
8 oz. plus a few handfulls of shredded cheddar cheese divided
5 oz. cream cheese divided
12 oz. bacon fried and crumbled, divided (if desired)
1 cup chopped green onions divided(if desired)
Salt and pepper
Instructions
Preheat Oven to 450 degrees F.

Cut 5-10 small potatoes in half width wise (can also use mini potatoes if your store carries them). Drizzle with 1 tablespoon of oil, and salt & pepper.

Roast for about 30 minutes. Set aside.

Cook macaroni in a large pot of salted water, according to the package directions.

Drain and set aside.

Melt butter, and add flour. Cook for one minute.

Add milk, sour cream, and most of your cream cheese. Cook until smooth.

Add 8 oz of cheese, and cook until smooth. Add salt and pepper to taste.

Add macaroni, and some of the bacon/green onions (if desired). Stir.

Pour mixture into an 8x8 baking dish and set aside.

Preheat oven to broil.

Cut each potato in half lengthwise. Scoop out most of the flesh, and set aside.

Brush skins with oil, and add around 1/2 tsp. of cream cheese to each. Cook for 2 minutes.

Sprinkle the crumbled potato over the mac and cheese Place potato skins on the top.

Sprinkle a few more handful of cheddar over the potato skins and add salt/pepper to taste.

For creamy baked mac and cheese, place the baked mac and cheese in the oven under the broiler for 2-3 minutes.

For more a traditional "firm" baked mac and cheese recipe, turn the oven to 400 degrees, and bake for 20 minutes until the tops are golden.

Garnish with remaining green onions and bacon.