Skinny Peanut Butter Cheesecakes
(Last Updated On: March 7, 2019)
Creamy peanut butter cheesecake wit a crunchy graham cracker crust.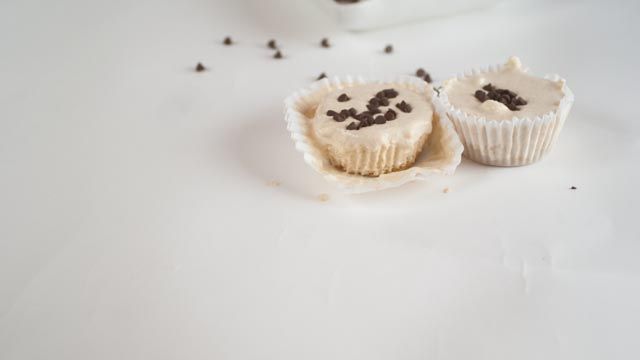 This week my family started a new diet.
Um..excuse me what? Don't they know I have a baking blog to keep up with.
How dare they start a diet without any consideration for my hobby!
Just kidding! 🙂
Instead of sabotaging them with sweets, I decide to make something decadent AND low in calories.
When I saw these Cheesecakes over at Crazy for Crust, I knew they were just the ticket Peanut butter and cheesecake are a big hit in my house, so the combination was sure to be a winner.
Best of all there are no "weird" ingredients or artificial sweeteners.
Print
Skinny Peanut Butter Cheesecakes
Pin Recipe
Ingredients
8 low-fat graham cracker crumbs
5 tablespoons light butter melted
4 ounces Neufchatel Cheese
1/2 cup fat free evaporated Milk
1/2 Cup sugar
1/3 cup peanut butter
1 1/2 cups Lite Cool whip
6 teaspoons mini chocolate chips
Instructions
Line a 12 cup muffin tin with cupcake liners.

Melt butter in the microwave for 1-2 minutes. Stir in graham cracker crumbs. Divide batter evenly between the tins (around 1-2 tablesppons per cup). Press down with a shot glass.

Heat evaporated milk and sugar on the stove until dissolved.

Beat cream cheese with a hand mixer in a large bowl until smooth. Add evaporated milk mixture and peanut butter. Gently fold in cool whip.

Divide batter evenly among cups.Top each with some chocolate chips.
Recipe adapted via:Crazy for Crust
What's your favorite skinny dessert?