Paris Hilton Dazzle Review
(Last Updated On: February 25, 2019)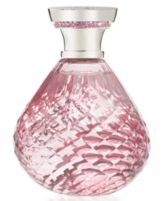 (Photo Credit: Macy's).
"Give me a chance to color my world and I will color it a sweet, pretty and playful pink! Dazzle is as brilliant and feminine as a coveted gem. This sensual fruity floral alluringly expresses a woman's whimsical side, revealing her inner beauty, her special dazzle and her unique charm." !Paris Hilton.
Recently Paris debuted her 15th fragrance called "Dazzle" ($59 for 4.2 oz).
Pink lady apple, sweet and tart, opens this effervescent fragrance, then bright, juicy notes of maraschino cherry and peach nectar follow, deliciously teasing, toying with the idea of translating the color pink into scent. A luminous heart, glistening with wonderfully bright, vivacious violet petals, shimmering with the hypnotic hidden allure of pink calypso orchid and dizzying with the sunlit shine of orange blossoms. Frothy like the bubbles from pink champagne, whipped vanilla, light as air, surrounds sensuous white patchouli as crystallized musk spins it all together (Macy's).
This perfume goes on smelling like vanilla and musk. However, as it begins to dry the sweet apple comes out.
It smells sweet and very romantic!
Just like Paris this perfume truly Dazzles!
Buy it: At Macy's
Disclaimer: Baking Beauty received a press sample in hopes it would be featured on my blog. No compensation was received nor was I required to write a review. All opinions will always be mine alone.