My Favorite Beauty Products April Edition!
n id="dpsp-post-sticky-bar-markup" data-mobile-size="720">(Last Updated On: February 24, 2019)
1. Maybelline Baby Lips in Fruit Punch
This lip balm softens and smooths lips with repeated use. It also gives a nice subtle tint. I know from the picture it looks like something a little girl would play dress up with, but I promise once its on it looks natural. I would love to buy one in every color for an easy summer look.  
2. CQ Nail Polish in 426 Crimson Pearl
I'm not sure what it is, but i can't stand seeing my feet in flip flops without my toes being painted. This is my all time favorite toe nail polish. It shoes up as a nice deep maroonish red, with just a hint of shine. Also, you can easily go 2 weeks between touch ups.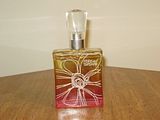 3. Bath and Body Works Forever Sunshine Perfume
This has been my go to every day scent for the past year! It is hands down my favorite ever bath and body works scent. Their description says it smells like apricot, peonies, and praline. Its a very sweet smell which I love. To me it smells fruity when you spray it on, but dries to a nice caramel finish. I own the body mist, eau de toliette, shower gel, and lotion! For a lasting scent I try to layer several of these.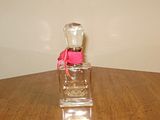 4. Viva La Juicy by Juicy Couture
This is my go to scent for going out. It is fairly expensive, so I try not to waste it when I'm staying home all day.  Its main notes are honeysuckle, gardenia, amber ,and vanilla. To me this goes on as a vanilla floral, but dries to a sweet but sophisticated smell. I get compliments on this often, with everyone wanting to know what it is! It also has fabulous lasting power. At the end of the day I can still smell it on my clothes.
Tip: You can get this at Walmart for only $19.99! The only catch is it's a pour not a spray bottle there, so save an old perfume bottle, or buy an empty one to put it!
5. Nyx Doll Eyes Mascara
This is my favorite mascara of the moment. Its brush separates lash for a very full look. It does not add too much volume which is fine since my lashes are pretty full to begin with. Also, it doesn't clump. I also love that it does not dry to a hard crusty finish, but it feels soft and almost natural. 
What are your favorite products of the moment? Please leave me a comment below and let me know!!
FTC Disclaimer: The mascara was received for free from a Sweepstakes win from Redbook/NYX. Everything else was bought with my own money.  Regardless all opinions are 100% my own.