Lush Cosmetics
(Last Updated On: February 25, 2019)
About Lush:
Lush is a unique, all natural cosmetics company. All of their items are fresh ,and made my hand. In addition, Lush  believes that "words like fresh and organic have honest meaning beyond marketing". This is easily apparent. My package came stuffed with newspaper, instead of Styrofoam. In addition, the lip products came without unnecessary  packaging. Finally, they don't test on animals. As a vegetarian, having my beauty products be cruelty free is a no-brainer!
None of Your Beeswax Vegan Lip Balm Review:

Unlike most natural lip products, this balm contains no beeswax. This is great for vegans, and allergy sufferers alike. It has a creamy texture, and makes my lips feel very soft.
A Million Kisses Lip Tint Swatches/Photos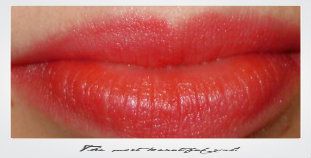 Lip Tints are like no product I have ever tried before. Once it's on your lips it feels neither dry nor creamy.  Gone is the urge to continuously rub my lips together. This product literally feels like nothing at all on my lips. Also, I love the rich red color. It manages to be pigmented, without being too intense.
Latte Lip Tint Photos
Latte is a gorgeous bronze color. This product is perfect for that natural summer glow.  How many times have you found yourself lip product? Since it's on your lips it cannot be avoided. Lush thought of this ,and flavored this balm with icing sugar and vanilla! Yum!
Lip Tint Review
Pigmentation:
10/10
Texture
10/10
Lasting Power
I was able to eat a light snack without it budging.
10/10
Ease of Application
9/10
Packaging
10/10
Beauty Grade:98% A
Keep in touch with Lush:
Like Lush on Facebook
Follow Lush on Twitter
Subscribe on Youtube
Follow Lush on Pinterest
Have you tried any Lush Products? Which is your favorite or which would you most like to try?
Disclosure: Baking Beauty received press samples for consideration. My loyalty is to my readers, and as always all opinions are 100% mine.