Laura Mercier Las Vegas Tutorial
(Last Updated On: February 25, 2019)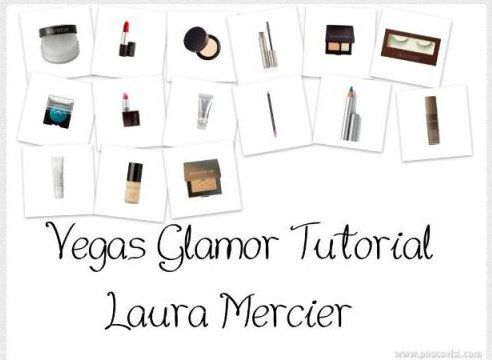 This look was created for the Jenny Packham show by Talia Shobrook.
Face: How to get Dewy Skin
1. Laura Mercier Oil Free Day Lotion ($95) and Laura Mercier Hydrating Foundation Primer ($32) to create a smooth, even canvas.
2. Conceal problem ares with Laura Mercier Secret Concealer ($22) and Laura Mercier Secret Camouflage ($30). Then apply Laura Mercier Moisture Supreme Foundation ($43) all over.
3. Use Laura Mercier Illuminating Tinted Moisturizer ($43) as a highlight on the forehead, nose, cheekbones, and chin. I would never think of using a tinted moisturizer to highlight!
4. Contour your cheekbones with Laura Mercier Pressed Powder in Dune Bronze ($32). Then blend Laura Mercier Gel Lip Color in Hibiscius Bloom ($22) into the apples of the cheeks.
A lot of products are marketed as dual lip/cheep stains. However, most lip stain can also be used on your cheeks in a pinch, or when you need a certain shade.
Eyes: Jewel Like Flirty Eyes
1. Use the Laura Mercier Eye Pencil in Midnight Bleu ($20) to outline the lid. Then use the Laura Mercier Kohl Eye Pencil in black Turquoise ($20) to fill in the lid.
Using an eyeliner gives you a more intense burst of color.
2. Set the eyeliner with Laura Mercier Baked Eye Color in Lagoon ($22).
3. Highlight the brow bone with Laura Mercier Metallic Creme Eye Color in Platinum ($22).
4. Apply black eyeliner to your lash line. (The artist used Laura Mercier Luxe Liquid Liner which will be released in October).
5. Add some drama with Laura Mercier Faux Lash Mascara ($24) and Laura Mercier Full False Lashes ($18).
Lips: Coral Pastel Lips: Modernized 60's version
1. Use Laura Mercier Cream Lip Color in Tangerine( $24). The apply the Laura Mercier Lip Pencil in Baby Lips ($20).
2. Finally, add the Illuminating Tinted Moisturizer for shine, and Laura Mercier Invisible Loose Setting Powder ($35). This will ensure your lip colors lasts.
What do you think of this look? Which product would you most like to own to try to recreate this look at home?