Give the Gift of Delicious Food
When it comes to buying gifts, I am an absolute perfectionist. I want everyone to completely love what I get them. Unfortunately, due to human nature, this is not always the case.
Some people have everything and are just plain hard to buy for. I hate to buy something I know will be immediately returned, or something that will just collect dust in the closet.
I've found that one idea is to give the gift of food. As a wise man once said, "People gotta eat!" Food is also especially appreciated during the holidays when friends and family are visiting, and it is one time of year people usually don't mind sharing!
Here are my suggestions for food gifts for those who are sometimes hard to buy for:

1. The Man Who Has Everything:
My grandfather is one of these men. He has countless shirts, a basement full of tools, and more hats than I can count. I think a gourmet food or gift box is something he will appreciate the most. It is something he wouldn't spend the money on himself, but that he'll enjoy nonetheless.
Some sure bets are Beer of the Month Club, or the Chicago Steak Company.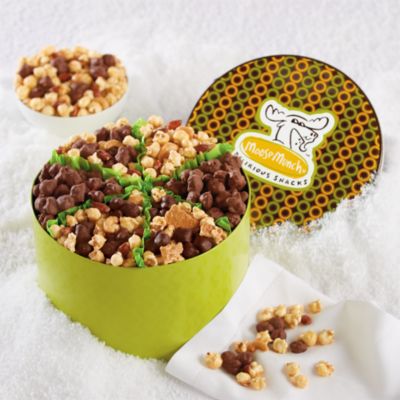 2. Teachers:
I always picture teachers' Christmas trees being adorned with countless"World's Best Teacher" ornaments, and their desks full of apple knick-knacks. What better way to enjoy their Winter Break than relaxing with some tasty munchies?
A much appreciated gift could be popcorn from Gourmet Gift Baskets or some Moose Munch from Harry and David.
3. Kids:
It seems these days children's toys are SO expensive. Most want fancy electronics. Just last week, I saw a Barbie House for over $100, and that was "ON SALE"! Food is a much cheaper way to light up a child's face on Christmas Morning!
Kid favorites include the World's Largest Gummy Bear from Candy.com or a Spongebob Cookie from Clever Cookies.

4.Girlfriend/Wife
What lady doesn't love chocolate? You should treat her to something extra decadent from Ghirardelli Chocolate or the Chocolate Tasting Club!
5. Busy Parents
Sometimes the simplest things are the most appreciated. For a busy family, a free meal in the form of a Pizza Hut gift card is likely to be much appreciated.
Want to make sure you stay on budget this year?
All of the wonderful brands mentioned above feature Online Coupon Codes.
The site is updated frequently, so you don't waste your time with expired promotions. You can arrange deals by most recent, category, and even the top discounts.
Affordable Food Gifts are just a click away.
Disclosure: This post is brought to you by MyDeals, all opinions are my own.