Me and The Girls Review/Giveaway
Welcome to the
For the Ladies Giveaway Hop
hosted by Planet Weidknecht and 
Going Crazy!! Wanna Go??!!
where you can enter to win
a giveaway on each participating blog!
Each blogger is offering a prize worth
at least $25 designed just for the ladies!
After you enter my giveaway,
hop around to the other blogs below
and enter theirs too!
Giveaway runs from July 9 at 12:01am to July 15 at 11:59pm.
I'm always on the hunt for new beauty products that are free of toxic chemicals. I also love supporting local businesses. Me and the Girls combines two of my favorite things. Their products are 99% organic, and made in the USA (my home state of Pennsylvania in fact!!).
About Me and The Girls : Me & The Girls, a luxury boutique style skin care line, offers lush anti-aging moisturizers and exfoliants that actively replenish while simultaneously nourishing all skin types. The collection, which contains at least 99% NOP (National Organic Program) certified organic materials, is sustainably sourced through domestic importers and suppliers. All products are non-toxic, chemical free and VEGAN.
Sales generated supports organic farmers in their tireless efforts towards producing safe organic crops, which allow fair trade workers the freedom to sustainably harvest lush pods and seeds at respectable and competitive wages. (Via Me and The Girls PR).
Foot Scrub($15 for 3 oz) Review

I have tried tons of potions and lotions for my feet. However, this was is very unique. I was surprised that this scrub was in a solid as opposed to a cream form. However, I soon realized the benefits. It comes with an adorable mini wooden spoon to scoop it out with. This allows you to get more exfoliating crystals and less filler. It worked wonders on my callused heels. They aren't kidding when they say the botanical oils make your feet slippery. My feet were gliding across the floor after using this!
Foot Softening Creme($25 for 1.5 oz) Review


This creme is also sort of solid. However, it is easily spreadable, if you warm it up in your hands. Once you do that  it also glides on your feet with a wonderful minty scent. It is perfect to use after your foot scrub!
Sugar Body Scrub($32 for 8 0z) Review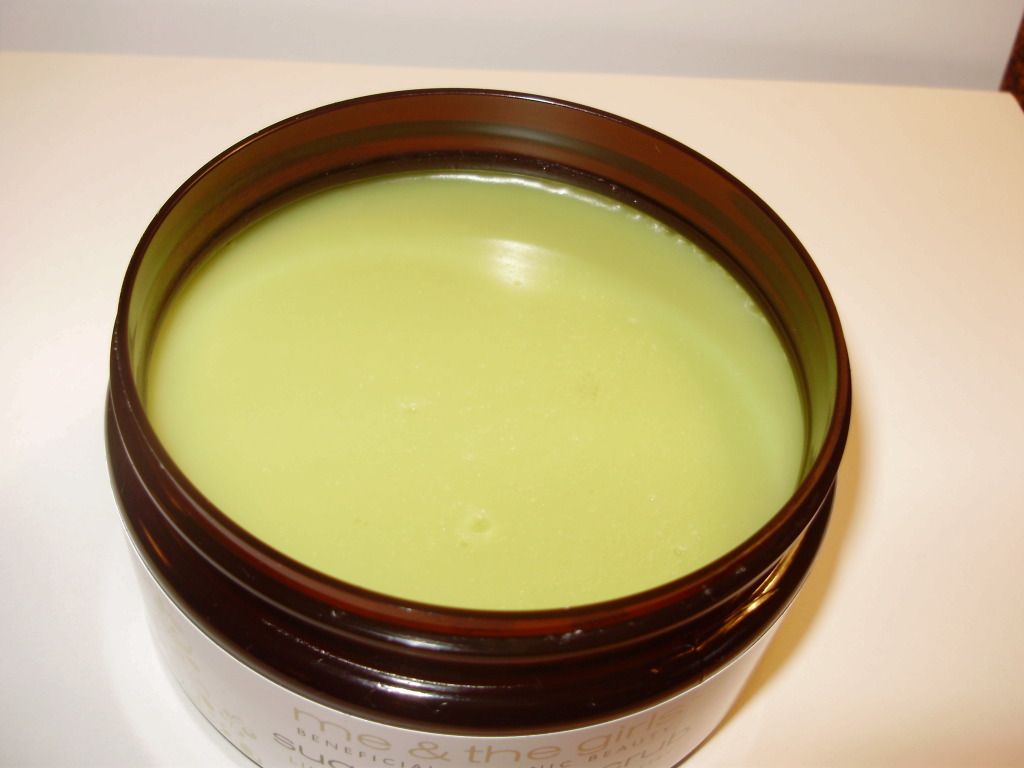 After using this product, I am not surprised that  it was voted Product of the Year at a recent convention. It is similar to the foot scrub only much more gentle so as not to damage your more tender skin. It is smooth and does not even feel rough when you rub it in. However, once you rinse it off your skin will feel soft and smooth.
It has a lovely citrus scent.
Beauty Bar($38 for 1.5 oz) Review

I tried using it both in the tube, and on my hands, but could not seem to get much a lather. However, even with few suds it did not feel drying like a soap. It was very moisturizing. I also loved the fact it doesn't get wet and dissolve like a typical bar soap. Very genius packaging!
Anti-Aging Night Moisturizer($36 for 1 oz) Review

This rich cream is full of vitamins that are supposed to help decrease lines and wrinkles. It does take a long time to sink in. As they state it is good for night use, but would probably be too heavy for use under makeup.
Moon Beauty Serum($38 for 1 oz) Review

This serum comes in a dropper. A little goes a long way. Around 2-3 drops is enough for my entire face. It is very oil rich.  It adds a lot of moisture. It would probably be best for someone with dry skin.
Its Me and The Girls has been kind enough to give one Baking Beauty reader a Food Scrub + Pedicure set to get those tootsies flip-flop ready!
Please enter on the rafflecopter below, best of luck!
Disclaimer: Baking Beauty received PR samples for consideration. However, my loyalty is always to my readers; and never to any particular brand. Therefore, all opinions are 100% my own.