Cinnamon Streusel Muffins
Cinnamon Streusel Muffins: Adapted from a recipe by Lemon Drops Foodie
My favorite part of muffins or coffee cakes is always the buttery crumb topping. These Cinnamon Streusel Muffins let you experience that richness the whole way through! Please keep reading for my delicious Cinnamon Streusel Muffins recipe!
Print
Cinnamon Streusel Muffins Recipe
Ingredients
<b>Muffin Ingredients</b>
1 1/4 cup flour all purpose flour
3/4 teaspoon baking powder
1/4 teaspoon baking soda
1/8 teaspoon salt
1/2 teaspoon ground cinnamon
1/3 cup unsalted butter softened
1/2 cup sugar
2 large eggs
1 teaspoon pure vanilla extract
2/3 cup plain Greek yogurt
3 tablespoons milk
<b>Streusel Ingredients</b>
2/3 cup all purpose flour
1/4 cup golden brown sugar
1 teaspoon ground cinnamon
1/8 teaspoon salt
3 tablespoons unsalted butter at room temperature
Instructions
Preheat oven to 350 F. Line one regular muffin tin with paper liners

Mix the first 5 muffin ingredients together.

Beat Butter and Sugar together. Add in eggs one at a time.

Mix in vanilla extract, yogurt and milk.

Add flour mixture to batter, a little at a time.

Mix all streusel ingredients together. Using your fingers works great!

Fill muffin cups 1/4 full with batter Then sprinkle 1/2 of streusel topping on muffins pressing down gently into batter

TOP with remaining batter and streusel mix.

Bake for 20 minutes or until toothpick inserted in center comes out clean.
Tried this recipe?I wanna see! Tag @bakingbeautyblog on Instagram and use the hashtag #bakingbeauty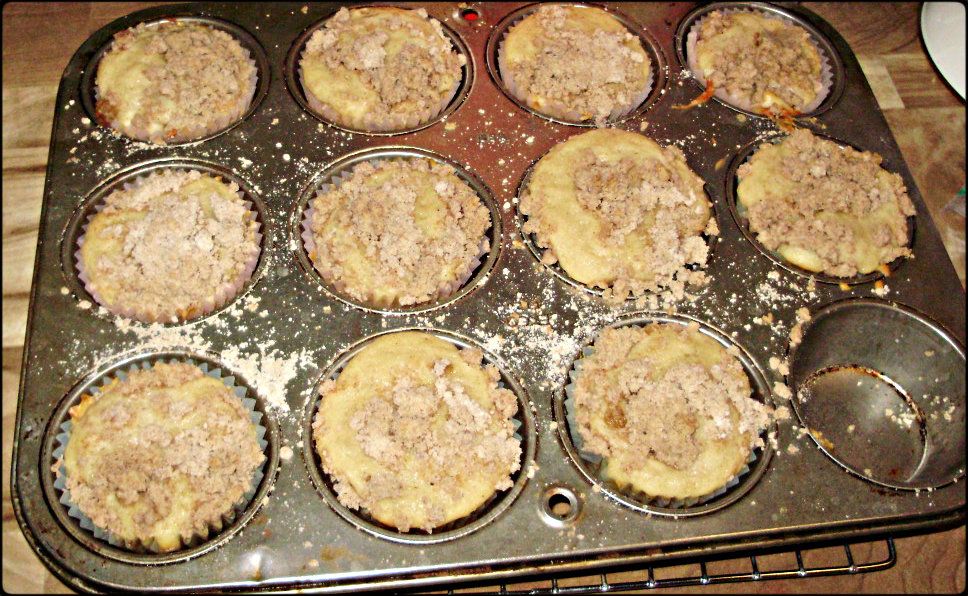 Overall, these Cinnamon Streusel Muffins were a tasty breakfast treat! I love that they only require one pan, and 20 minutes!
What do you think of these Cinnamon Streusel Muffins? What are you favorite kind of muffins?