Magic Marshmallow Brownies
(Last Updated On: March 7, 2019)
Magic Marshmallow Brownies

My Brownie Magic Mallow bars are a great way to jazz up a boxed brownie mix. It adds gooey marshmallows, and rich chocolatey peanut butter topping.
They would be a great choice for a church supper, or treat for your family.
Print
Brownie Magic Mallow Bars
Pin Recipe
Ingredients
Fudge Brownie Mix 13x9 size I used Betty Crocker
1 package mini marshmallows
2 cups of semisweet chocolate chips
1 cup of peanut butter
1 tablespoon of butter
1 1/2 cup rice krispies
Instructions
Prepare brownie batter using the directions on the package. Be sure to grease your pan.

Bake at 350 degrees for 28 to 30 minutes.

Top with marshmallows and bake for 3 more minutes. (Don't worry if they don't melt all the way)

Cool on wire rack.

Mix chocolate chips, peanut butter, and butter on the stove top.

Stir until smooth. Remove from heat, and stir in cereal.

Spread over brownies and refrigerate for 1-2 hours to set. Store in the fridge.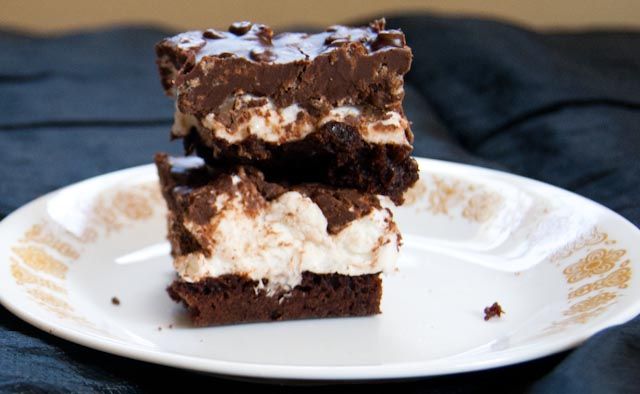 (Recipe Adapted from Betty Crocker)