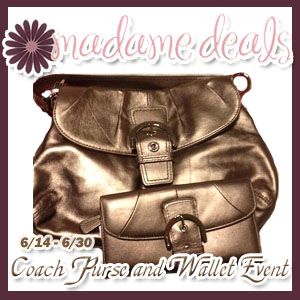 ADD IN YOUR OWN VERBIAGE HERE!!
**Powered by Madame Deals and Slop Swap**
Thanks to our hosts for helping us run this great giveaway:
Dixieland Product Reviews & Giveaways
Colleen's Book Nook
Still Blonde after all these YEARS
Saving More Than Me
Diva Fabulosa
The prize is a COACH $348 SOHO LEATHER FLAP Silver-Bronze PURSE BAG F17217
Wallet SOHO F45622
How gorgeous is it seriously? I'd love to call it my own wouldn't you?
This giveaway will run from 6/14 12:01 am EST thru 6/30 11:59 pm EST
Please enter on the rafflecopter below, good luck!